Restaurants
Main Dining Restaurant
Start out the day with our Western/Japanese breakfast buffet. Relax in front of our garden waterfall during lunch. Gaze at the beautiful North Japanese Alps while enjoying one of our esteemed chef's French full-course dinners.
Breakfast: 7:00am-9:30am
Lunch: 11:30am-2:00pm
Dinner: 5:45pm-9:00pm (Reservations Required)
Japanese Restaurant
(Winter Only)
Whether it is rice bowl with beef, sashimi, or sukiyaki that you have been dying to try, or whether you want to indulge and try the world-renowned Kobe Beef, you can find the Japanese specialty you desire at our Japanese restaurant.
Dinner: 6:00pm-9:00pm
(2019-2020 It will be opened on 13 December, 2019 Fr)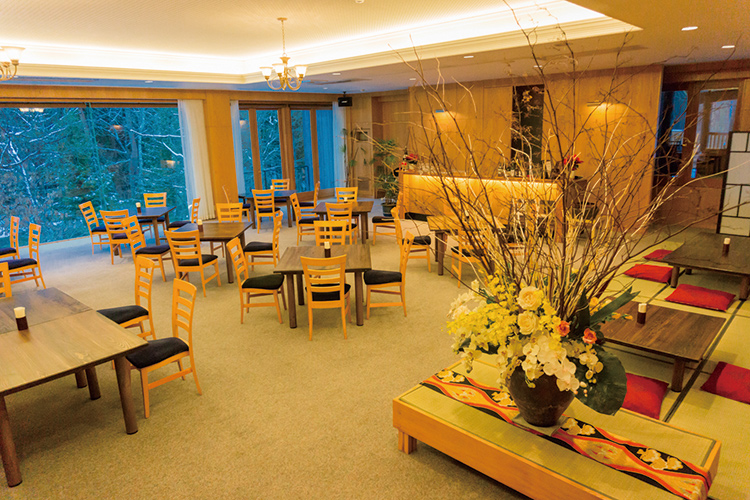 We can serve 30 kinds of dishes included Appetizer, Salad, Main, Side, Desserts, Kids Plate and Veg menu, allergies are displayed.
Once winter menu is fixed, it will be displayed on this page.
A few examples from 2018 winter menu

(Hot pot noodle 2700 YEN, Sashimi set 2800 YEN)
Chef PIERRE KANAZAWA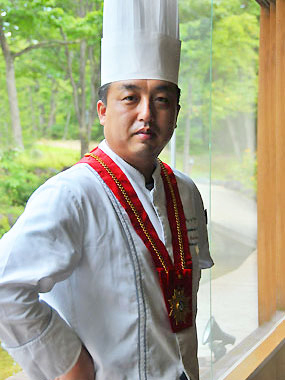 Executive chef
Pierre Kanazawa
2003 2nd Place in the 11th Annual Canadian Culinary Cup (Minister of Agriculture and Agri-food Canada)
2005 2nd Place in the 16th Annual Toque d'Or Culinary Cup (World Association of Chefs Societies)
2006 2nd Place in the Annual Andalucian Food Competition
2007 Represented Japan in the 2nd Copa de Jerez International Competition (Spain)
2008 Received Diploma and Award Medal from the Toques Blanches Club
2009 Received Diploma from the Yaesu Association (Japan's Top Culinary Association)
2010 Received Honorary Gold Medal from the Yaesu Association (Japan's Top Culinary Association)
2011 Received Friendship Diploma from the Auguste Escoffier Association of Japan
2012-13 Acted as Special Guest Lecturer at Matsumoto Training College for Cooks & Confectionery
Chef Shingo Nakamura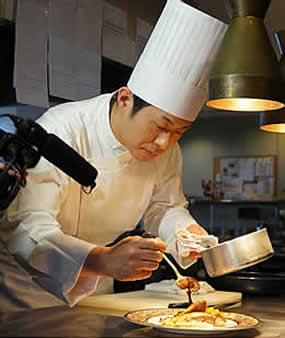 Chef
Shingo Nakamura
2014 Took 3rd Place in the Japanese Division of the 25th Annual Toque d'Or Culinary Cup
Example of MENU
Please ask us.vegetarian dish,religion dish,allergy at least 10 days before.
Many restaurants are located in Hakuba village.We can take you to there if you want.